Cybersecurity Professional Certification Guideline GS-20-001 (GS-20-001)
PURPOSE
The purpose of this document is to provide a set of certification guidelines for current and/or prospective state employees working in cybersecurity positions.
SCOPE and AUTHORITY
Information Technology Policies, Standards and Guidelines (PM-04-001) [or add: Enterprise Information Security Charter (PS-08-005)]
GUIDELINE
The guideline provides two lists of certifications:
offered at the Georgia Cyber Center (GCC)
acceptable alternate certifications  
The certifications are organized by three (3) categories defined by an employee's level of experience.
Entry Level- Professional 1
Intermediate Level- Professional 2/ Senior
Advanced Level- Senior/ Leadership
GCC Certifications Chart Web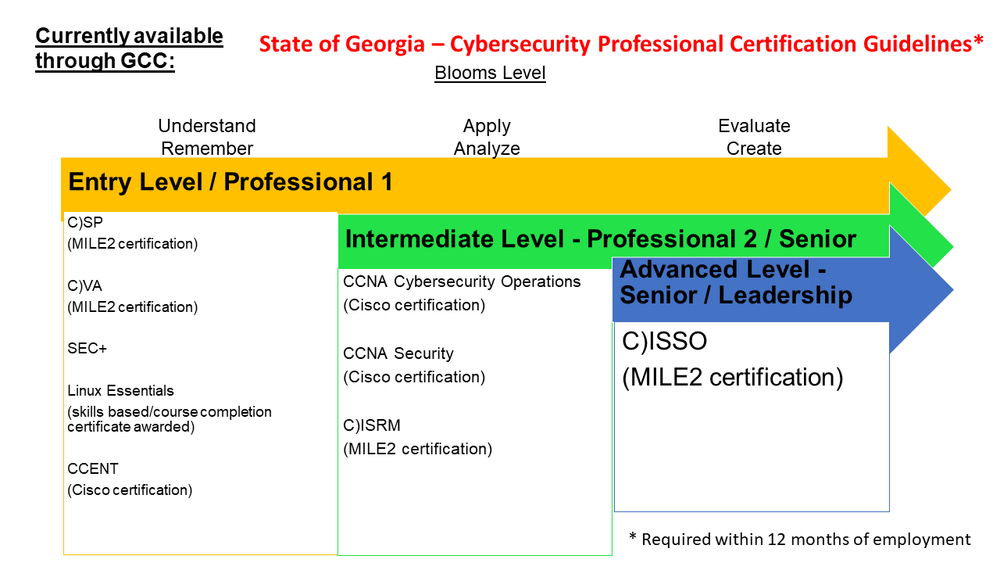 Acceptable Alternate Certifications Web
 Printable PDF versions of these charts are available below in the "Related Files" section.
Related Files